Cinema program "Finding Dory" in Trójmiasto
No showtimes for movie "Finding Dory" for today
Choose other date from the calendar above.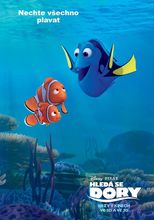 Original title:
Finding Dory
Runtime:
103 min.
Production:
USA , 2016
Category:
animation
/
adventure
/
comedy
Release Date:
17 June 2016
Distribution:
Disney
Directed by:
Andrew Stanton
,
Angus MacLane
Cast:
Albert Brooks
,
Ellen DeGeneres
,
Hayden Rolence
Disney / Pixar welcome again on the big screen favorite, forgetful fish - barber Dory, leading a happy life on a coral reef. When Dory suddenly remembers that he has a family that can look for her, urging Marlin and Nemo on the trip of a lifetime through the Ocean to the prestigious California Institute of Oceanography.
To find Mom and Dad, Dory needs the help of three of the most intriguing inhabitants Institute for Hanka, grumpy old octopus, who often flees from workers; Bailey, wala White, who has problems with echolocation; and Hope, suffering from myopia female whale shark.
Deftly navigating the intricate nooks and crannies of the Institute, Dora and her friends discover the magic hidden in their defects, friendship and family ties.

Movie trailer: Finding Dory