Cinema program "The Grand Budapest Hotel" in Trójmiasto
No showtimes for movie "The Grand Budapest Hotel" for today
Choose other date from the calendar above.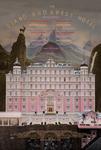 Original title:
The Grand Budapest Hotel
Runtime:
99 min.
Production:
USA , 2014
Category:
comedy
Release Date:
28 March 2014
Distribution:
Imperial Cinepix
Directed by:
Wes Anderson
Cast:
Owen Wilson
,
Saoirse Ronan
,
Jude Law
,
Edward Norton
,
Ralph Fiennes
,
Adrien Brody
,
Bill Murray
The latest film WesaAndersona, one of the most original artists of modern cinema, combining the magic of realism the director: "Brilliant clan", "The Fantastic Mr. Fox" and "Moonrise Kingdom. Lovers of the Moon ". Unusual adventures of an eccentric porter from the famous European hotel in the turbulent interwar period, which is embroiled in a scandal around the theft of priceless Renaissance painting and the fight to take over the vast family fortune. Phenomenal ensemble cast: nominowanydo Oscar Ralph Fiennes ("Schindler's List"), Oscar winner F. Murray Abraham ("Amadeus"), Mathieu Amalric ("Venus in Furs"), Oscar-winning Adrien Brody ("The Pianist"), nominated for an Oscar Willem Dafoe ("The Pianist"), Jeff Goldblum ("Jurassic Park"), Oscar ® nominee Jude Law ("Sherlock Holmes"), Academy Award nominee Bill Murray ("Lost in Translation"), Academy Award nominee Edward Norton ("Fight Club "), Academy Award nominee Saoirse Ronan (" Atonement "), Jason Schwartzman (" Marie Antoinette "), Tilda Swinton won an Oscar (" The Curious Case of Benjamin Button "), Academy Award nominee Tom Wilkinson (" The Full Monty ") and Owen Wilson ("Midnight in Paris").

Movie trailer: The Grand Budapest Hotel