Cinema program "Forest - I See You Everywhere" in Trójmiasto
No showtimes for movie "Forest - I See You Everywhere" for today
Choose other date from the calendar above.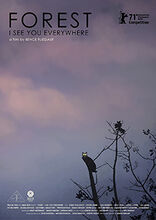 Original title:
Rengeteg - Mindenhol latlak
Runtime:
112 min.
Production:
Węgry , 2021
Release Date:
17 December 2021
Distribution:
Aurora Films
Directed by:
Benedek Fliegauf
Cast:
Eszter Balla
,
Laszlo Cziffer
,
Peter Fancsikai
Nagrodzony Srebrnym Niedźwiedziem na MFF w Berlinie, film jednego z najciekawszych węgierskich twórców Bence'a Fliegaufa ("Gąszcz", "To tylko wiatr", "Łono") to hipnotyczny portret ludzi na rozdrożu pogrążonych w chaosie. Intymną atmosferę siedmiu historii powiedzianych w filmie, podkreślają pełne zbliżeń i długich ujęć klimatyczne zdjęcia.
Siedem historii, wielu bohaterów. Sporo ich dzieli – wiek, doświadczenie, motywacje, życiowe priorytety. Łączy poczucie niespełnienia, skrywana frustracja, wyczuwalny podskórny niepokój. Każdy z nich próbuje wyrazić swoje emocje, ale czuje się niezrozumiany.
Komunikacyjny rozdźwięk widać w każdej formie relacji: rodzinnej, przyjacielskiej, partnerskiej. Dotyczy nie tylko uczuć czy spojrzenia na świat, ale też niezabliźnionych jeszcze ran czy niesprecyzowanych planów na przyszłość. Młoda dziewczyna obwinia ojca za śmierć matki, para nie może zdecydować, czy to najlepszy moment na dziecko, inna spiera się o poprzedni związek mężczyzny, kobieta próbuje wpłynąć na światopogląd swojego syna. Każdy z bohaterów, także pozostałych historii, czuje się osaczony i samotny.
Movie trailer: Forest - I See You Everywhere