Cinema program "Arctic Justice" in Trójmiasto
No showtimes for movie "Arctic Justice" for today
Choose other date from the calendar above.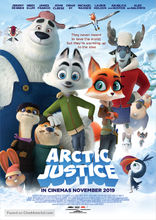 Original title:
Arctic Justice
Production:
Wlk. Brytania/Kanada/Korea Płd./USA/Indie/Chiny/Japonia , 2019
Release Date:
6 December 2019
Distribution:
Monolith
Directed by:
Aaron Woodley
Cast:
James Franco
,
Jeremy Renner
,
Alec Baldwin
A thrilling comedy about the adventures of an Arctic fox and his polar friends who must join forces in the fight against the Arctic villain. Swifty, a polar fox, works in the Arctic post office, but secretly dreams of a career as a courier dog, which is usually attributed to husky dogs.
One day, to prove his extraordinary skills, he decides to personally deliver the package to a distant recipient. At Swifty's destination, he will discover that the recipient of the package is an eccentric walrus who plans to melt the arctic ice to drown the world and gain absolute power over it. Swifty has to band his bravest friends to thwart these crafty plans and show the world that it's not worth messing with the mailman and his ice crew.

Movie trailer: Arctic Justice